Compulsive Creator, Illustrator, Fine Artist, Animator, Puppet-maker & great Appreciator of the beauty in the world.
Phone: (+61) 027 307 2288
Meet the Artist behind the Art…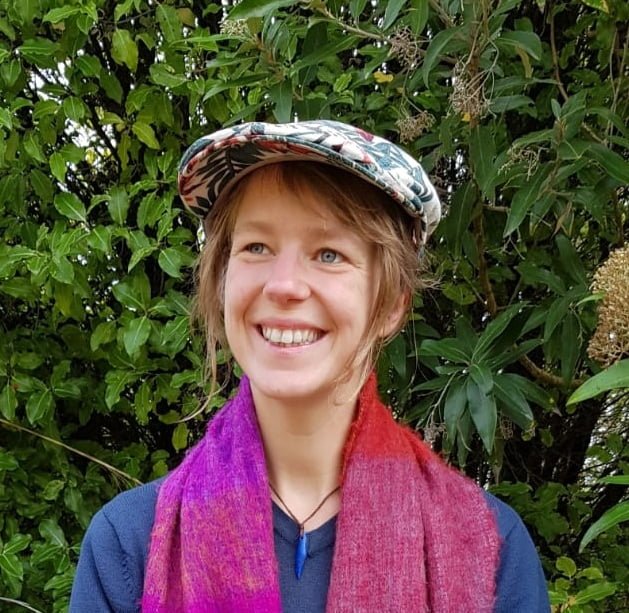 I've always believed, there's nothing I can't do, I simply haven't learnt how yet.
Hi, I'm Natalie and I'm a compulsive creator
My name is Natalie J. Cheetham and I was born in England in 1985 to an English father and a German mother. Growing up by the cosy coast of south England, I enjoyed all of the beauty Bournemouth and the wider area of Dorset had to offer, such as the ancient ruins of Corfe Castle and the mysterious woods of the New Forest, which are perfect places for the child's imagination to run wild with stories. Creativity ran through every aspect of the games my older sister, brother and I used to play. We would sit together and draw for hours. We were also lucky enough to have a camcorder, so we'd write little scripts, create characters and film all sorts of shows, many featured stop-motion animations, which were inspired by growing up in the glory days of animation in England at the time. There were so many shows that have inspired and shaped my imagination, such as Button Moon, The Magic Round-a-About and Trap Door to name a few.
A consistent theme throughout my work is exploring emotions portrayed through expressions and gestures of a character. Besides using watercolours, oils and gouache I also like to make my characters come to life by creating puppets and marionettes. My colour palette is strongly influenced by the bold and bright colours of the natural world.
My love affair with the surreal began at high school already, where I discovered the likes of Max Ernst and Salvador Dali. Later I discovered Shaun Tan, who has also been a great inspiration in the wonderful melding of surreal themes and story books.
Mission
My mission is to bring a smile to people's faces through bright, bold colours and quirky little characters and to transport people to mesmerising places.
Vision
My vision is to turn every mundane, grey wall into a beautiful, colourful haven of art, transporting the soul to a place of happiness
Values
Appreciation and gratitude of the planet and all living things.
Authenticity and originality, always striving towards the unique and absurd
Embracing and playing with the bright, bold colours of the world.
My first adventures as a little artist…
The first artwork I remember being really proud of as a child, was a very detailed image of the Taj Mahal I drew for a school project about India, when I was seven. I was fascinated by the round turrets and grandiose windows, and the beautiful symmetry of the building with its tall, proud minarets.
This project had such an impact on me that I swore to myself that one day I'd visit India to see the Taj Mahal and ride on the back of an elephant*. This is a part of the story, which led me to eventually live in New Zealand thirty years later.
*I now know how cruel it is to ride on the back of an elephant. It's a terrible exploitation of the poor majestic animals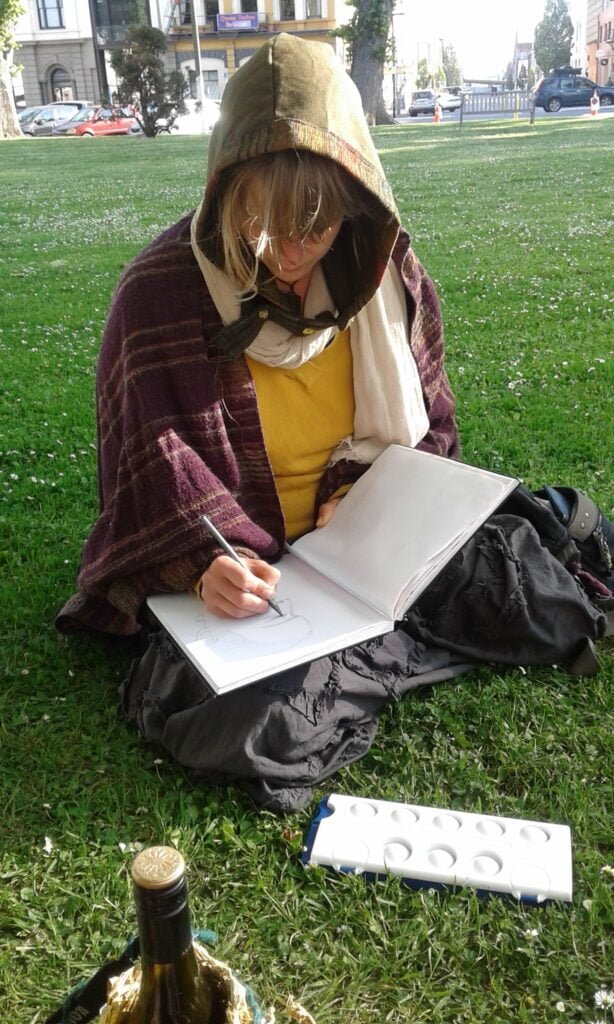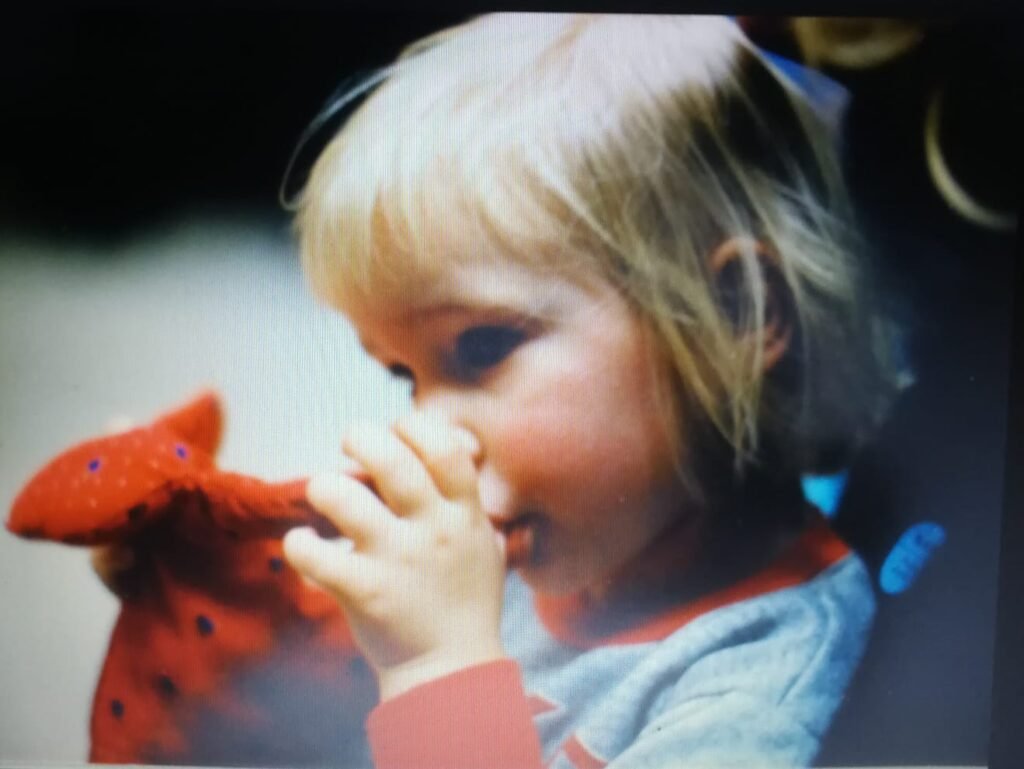 First Culture Shock
When I was nine my family decided to move to Germany, where everything including the language was different. It was a huge culture shock going from orderly uniformed schools, where you weren't even allowed to talk in the corridors, to a classroom full of unruly, wild children jumping about on the tables, whilst my new teacher was locked inside the supply room. That was my first impression of my new German school.
We moved to Germany on a Thursday and were signed up to start school on the Monday, without more than a few sentences of basic German to go by. I soon realised that art has no language barriers, thus enjoyed art classes and general doodling in classes immensely. Being young I quickly picked up the language and ended up graduating from Gymnasium (German equivalent to GCSE's and A-Levels) majoring in Art, English, Politics and Maths. The school was very post-punk liberal and taught me an important skill of critical thinking, which I'm very grateful for today.
At the age of twelve, whilst playing PlayStation with my brother, a pivotal lightning bolt of inspiration struck me; the moment I suddenly knew I wanted to pursue a career as an artist. My brother was showing me a new game and as I watched the intro of this game I was absolutely mesmerised by the dance between the music and the motion of the characters, amazed by the detail of each individual strand of hair moving. The game was Tekken 2 and I knew then that I wanted to get into 3D animation. At least that's what I thought at the time.
From then on the plan was clear, graduate from High School and study 3D Animation at University. There weren't many Universities offering this as a course in Germany so I decided to go back to England to study. I returned to my roots and did a Foundation Diploma in Art & Design at the Arts Institute Bournemouth (now known as Arts University College at Bournemouth) in 2005. During this time I had the chance to explore many artistic paths and discovered that I love animation, however, computers and I do not always see eye to eye. I love the physical aspect of art-making, so I decided to take the route of an Illustrator, and was accepted into the University of Gloucestershire , where I completed a BA(Hons) Degree for Illustration & Animation at, graduating in 2009.
After graduating a good many things happened, which lead me to fulfill my dream of going to India to visit the Taj Mahal and ride on an elephant. It was one of the happiest days of my life. My family at this point had spread out all over the world, my father and brother moved to Houston, Texas when I was in my teens and my sister married an Australian and settled on the Gold Coast, Queensland. After University I saved up to go visit them and decided to stop in India on the way, then I thought why not stop off in many places along the way, so I ended up travelling first to India, then to Singapore, catching the train through Malaysia to Thailand, with a brief, yet astounding visit to Cambodia, where I visited the second most beautiful place I've ever seen, Angkor Wat. I then spent a brief, yet festive time in Hong Kong pre-Christmas. I eventually got to Australia just in time to spend Christmas with my sister, and absolutely loved Australia. After a few months there I raced through New Zealand from top to bottom in a month, remembering a blur of waterfalls then zoomed off to America, where I leisurely took the train up the coast from LA to Seattle soaking in the art and its people. I finally got to Houston to spend some time with my father and brother, but my heart was set on returning to Australia, to bask in the glory of its vast natural wonders and sunshine.
After completing my round-the-world trip, I moved to Brisbane, Australia and for the first time I felt like a professional artist. I was commissioned to do an album cover for a musician, had the chance to paint my first mural in a cafe and got a job as an animator for The Really Quite Good Ideas Company. However, all good things must come to an end, thus my Visa ran out with no way of renewing it. So I jumped over the water to give New Zealand more time. I loved the artistic energy of Wellington, where I met my partner, and eventually became a Permanent Resident.
All of these insights into different cultures, architecture, modes of transportation and ways of living shape my artistic language and thought patterns. Through growing up in two different cultures I have a huge interest in human psychology and how little mannerisms and gestures can portray our language visually. I have also seen the great wonders of nature on my travels and believe there is no greater artist than nature itself. And inspired by that first study of the Taj Mahal I have always been fascinated by the grandiosity of intricate architecture.
My journey as an artist has taken shape in many forms, since living in New Zealand as I have explored the difference between the skills I can do and skills I like to do. When I first came here, my partner, who was at The Learning Connection at the time, inspired me to paint wild and spontaneously, breaking the constraints I had been carrying since University. It was liberating and has shaped and stretched my painting abilities and reawakened the fun in art-making.
I was part of a group exhibition at the Matchbox Studios in Wellington, and also put on a performance called 'You Occupy my Awakening' as a guest Artist for Virginia Kennards show You Occupy my Body at the Toi Pōneke, where a dancer interacted with a large projected animation. This was the seed to a much larger project still in the making.
I had my first solo show at the Bush Lounge in Karamea in 2017, which lead to a mural commission and a chance to run Stop-motion animation workshops at the school. After leaving a trail of murals in Karamea, Granity, Oamaru and Christchurch, I now live in Dunedin, where I currently exhibit frequently at the Otago Art Society, as a recent member.
---
Life of an Artist – My Blog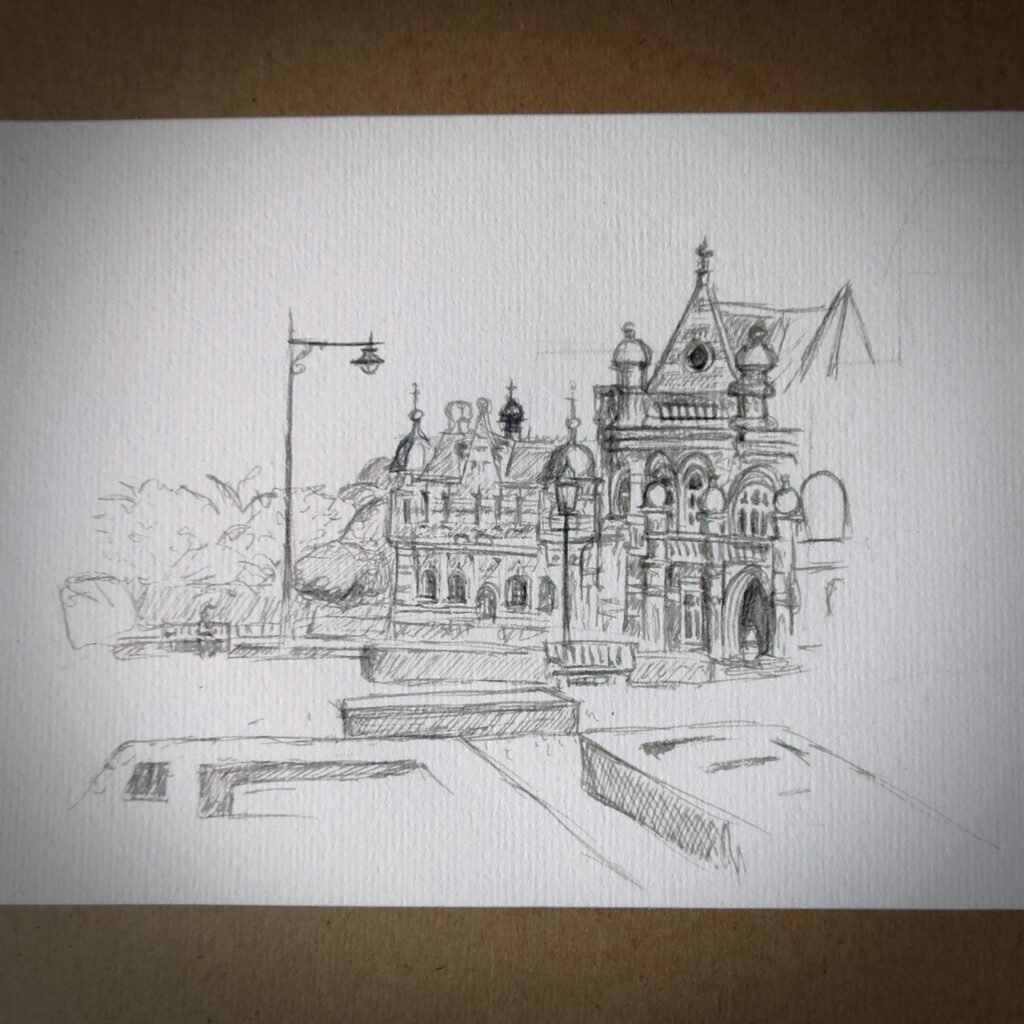 Life of an Artist – Blog 12 The Lost Beauty in Old Architecture New Environment, new Inspiration It's been nearly a year, now since I've moved to Dunedin City, where…