Pet Portraits
---
Honour your pet with a custom portrait
"I absolutely adore the portrait of Frankie! I cried when I saw it.
I'm going to have it framed and hang it up where the TV is!"
"D LOVED the painting, thanks so much,
it's framed and will be pride of place"
"She's been with me for over half my life my loyal best friend Girl!
Thank you Natalie for the beautiful painting of her"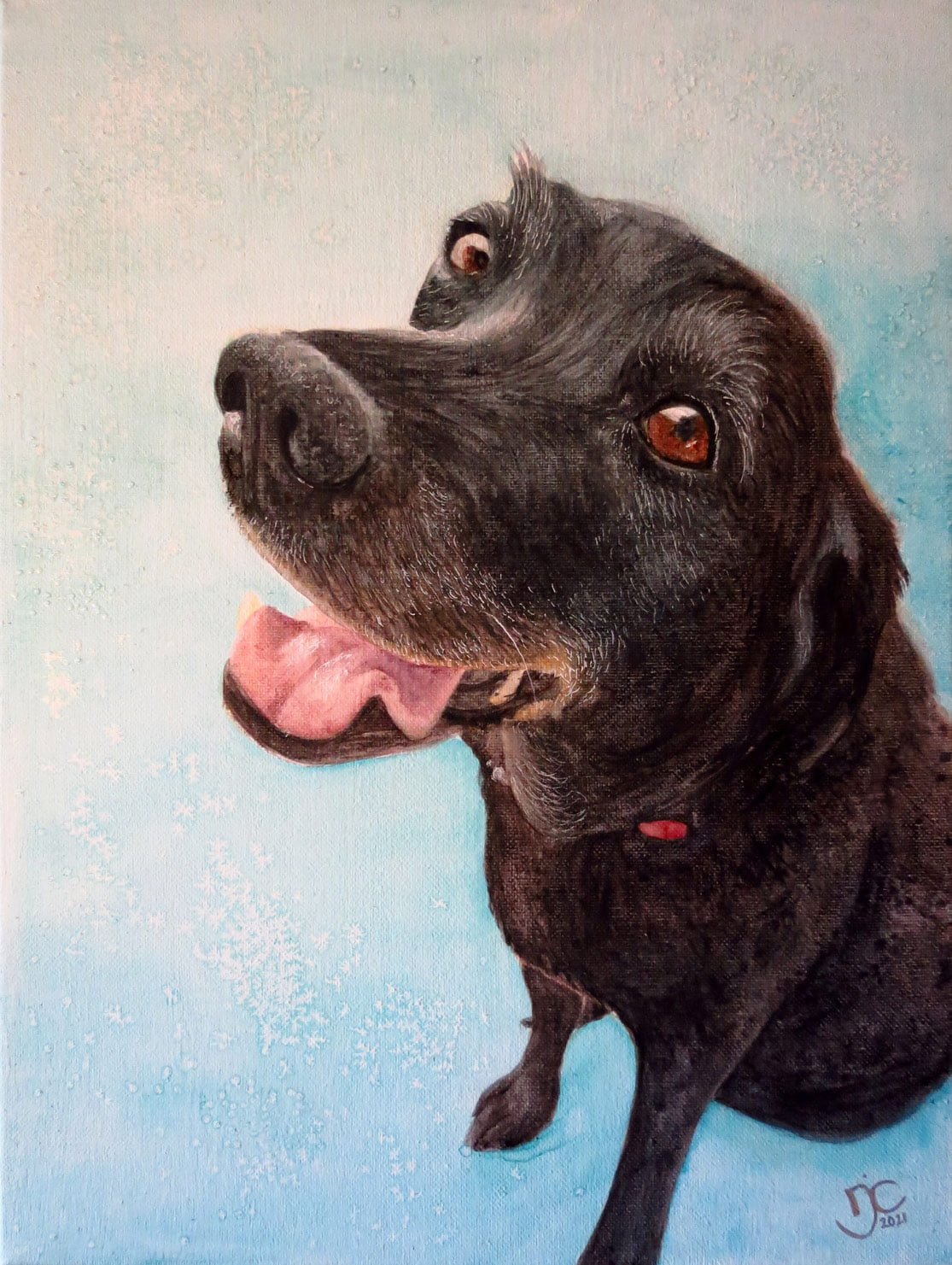 "My wife Tracy absolutely loves the painting!
Thanks Natalie, I'll be in touch about getting another
one done of the golden labrador Nelly"
"I was totally overwhelmed when I opened it,
I can't believe how accurately you have captured
their faces just from a photograph!
I love it so much."
Pet Portraits
Would you like to cherish your precious companion with a unique, hand-painted oil or watercolour portrait?
A custom painting is a wonderful way to treasure their memory for a long time to come.

Pet portraits are also a great way to surprise a loved-one for a special occasion.

Short on time or don't have a photo? They're available as Gift Certificates, too.
If you would like to order a special hand-painted portrait, simply follow the steps below. I'd love to hear from you!
How the Process works
Step 1: Select a size
First of all choose your desired size and medium, make sure to remember your Size Number, as you'll need it later when you fill out your Enquiry Form
Watercolours:
Size 1: 22 x 29.5 cm on Watercolour Paper*…………………..NZ$180
Size 2: 24.3 x 34 cm on Watercolour Paper*………………….NZ$240
Size 3: 30.5 x 40.6 cm on Watercolour Paper*………………NZ$270
Oil Paintings:
Size 3: 30.5 x 40.6 cm on Canvas…………………………NZ$270
Size 4: 40.6 x 50.8 cm on Canvas…………………………NZ$360
Click on the image above for inches

Please note:
* I use premium quality, cold-pressed 300gsm watercolour paper. Sizes and prices are subject to change due to stock availability.
– Custom sizes available at a special fee, simply choose custom size in the enquiry form.
– Prices shown do not include shipping prices.
– Additional Pets are available in Sizes 2-4 at $60 extra per pet (See FAQ at the end of page for more info)

Step 2: Fill out a Form
Once you've decided which size you want and in which medium simply fill out one of these quick and easy forms. This will start the process of the order…
At this stage you won't have to pay or have any pictures ready yet. I'll be in contact with you via email to make sure you ordered the appropriate size, medium and to make sure you're 100% happy before I start painting or taking any money.

Please keep reading the next steps before or after completing the enquiry form.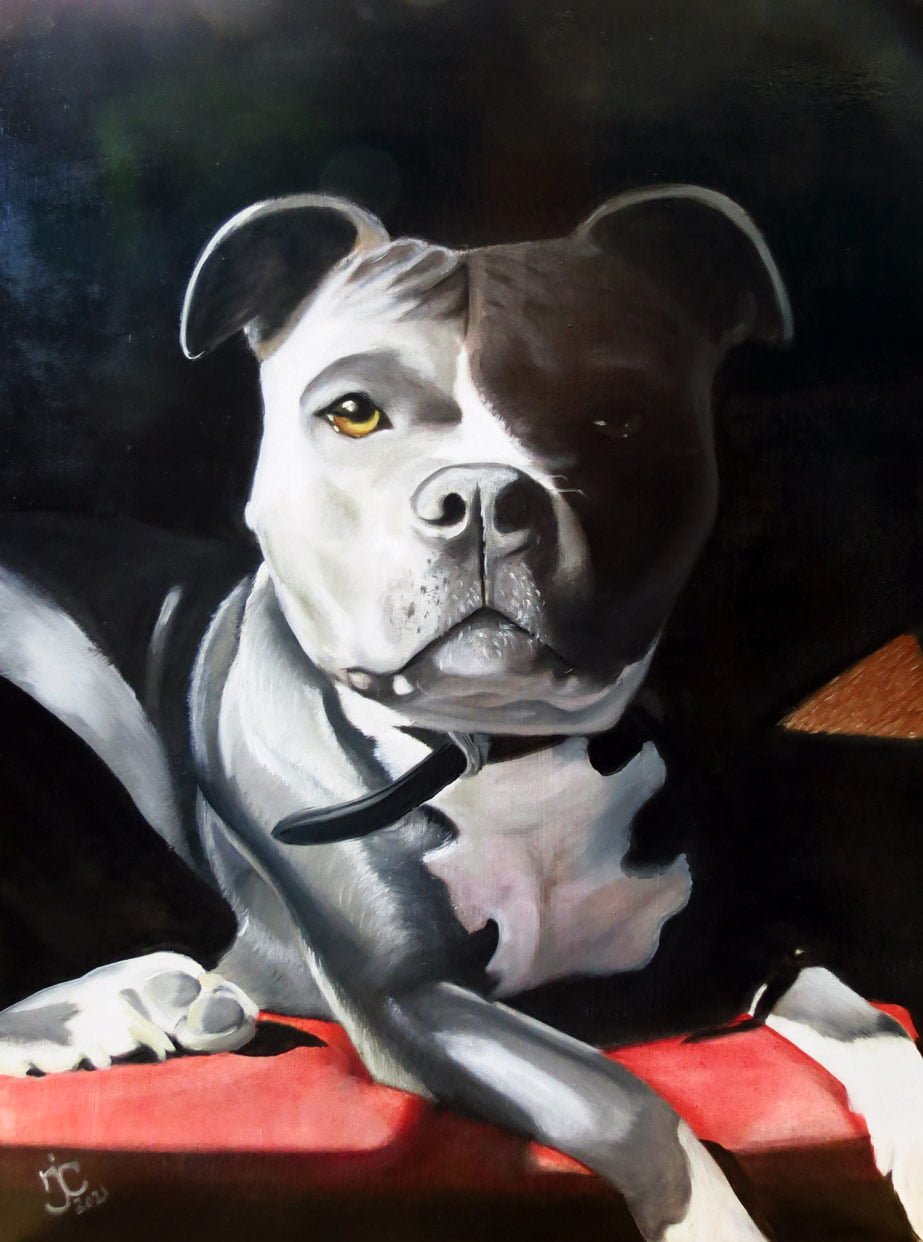 Step 3: Send the Photos
Once you've submitted your order it's time to take or find some lovely high quality photos of your adorable companion, capturing the aspects which make them so special. The better the reference picture, the better the painting will be.
Try to get them nice and close with their heads and shoulders in the frame.

Once you've chosen some lovely photos, simply email them to me via the confirmation email I'll send you.

We can then go through the images via email and choose, which one is the best. I might decide to crop the image to fit the canvas size and enhance it, as you can see in the example image.
Step 4: Confirm Commission
After we have chosen a lovely reference image, talked about background colours or backdrops* via email communications and you are happy to proceed, simply send me a deposit of 20% of the total amount. I will round up the number for ease and send you the payment details via email.
If you would like to keep track of the painting process as I go, please let me know during the email correspondence.
* I may charge an extra fee, if you would like me to do a complex background
($40-$60 extra depending on the size and complexity)
Step 5: Wait and See
Now you just have to wait for me to do my magic. Once I have completed your painting, I will email you a photo for approval. At this stage minor alterations can be made.

When you are happy with the outcome, simply pay the outstanding amount plus shipping costs in the same way you paid the deposit and I will courier it to you via tracked postage.
---
---
Short for time or don't have a photo of your friends pet, no worries!
Why not get them a beautiful gift Certificate, which they can redeem at their own convenience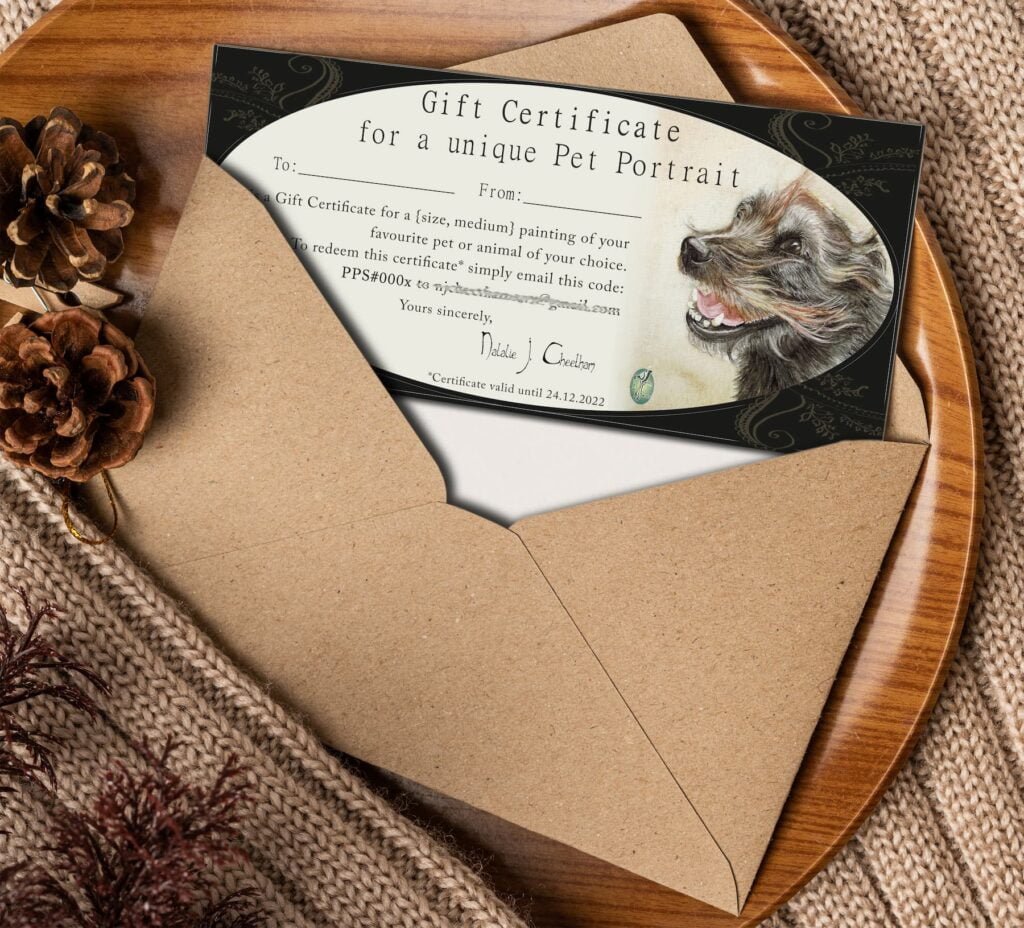 Gift Certificate for a Pet Portrait
---
Frequently Asked Questions
Here you can find the most frequently asked questions.
If you have any further questions, please email me at njcheethamsart@gmail.com
How long does it take to finish a painting?
Depending on how long the waiting list is, it shouldn't take longer than 2 weeks for a watercolour painting and 6-8 weeks for an oil painting, as they take a lot longer to dry.
This does not include postage times, which may vary depending on where you are.
Do you ship internationally?
Yes, I do. The cost of postage will be added to the price of your painting. Please see below for shipping prices.
Due to the international circumstances and the fact that I ship from New Zealand, please allow for plenty of shipping time.
Can I pick it up if I live locally?
Yes, you certainly can, I live in Central Dunedin, New Zealand.

Can I have more than one pet in a painting?
Absolutely, however only with sizes 2-4. I charge an extra $60 for each additional pet.
May I make duplicates of my painting for friends or family?
No, I have full copyright of all of my portraits. These may not be reproduced in any form without my written permission.
As portraits are very personal to the client, they will not be duplicated in any way. However, I do put finished portraits on my website and social media, and may use them for marketing purposes. If you do not want your portrait displayed on my website or used for marketing, please let me know.
What are the payment options?
All prices displayed are in NZ$, I will convert the prices to the currency of your country at the time of your order.
You can pay via credit card or paypal.
I will send you a payment page via email for the deposit and final payment. You may also pay the entire cost at once if it's more convenient for you.
Please note: The deposit is non-returnable, which means if you should for some reason not want your painting, you do not have to pay the full price, I will however keep the deposit to reimburse my time and expenses at least a little bit.
What is the difference between a watercolour and an oil painting?
Watercolour paintings tend to be soft and gentle in their tonality, they are ideal for light reference pictures. They will need framing to increase the lifespan of the painting and are available in all sizes mentioned above.
Oil paintings on the other hand are only available in the 2 larger sizes on canvas board, or canvas. They are very rich in colour and bold, making them ideal for darker reference pictures. They do not need framing as the pigments of oil paints are more robust and won't fade over time. But please allow for 6-8 weeks drying time.
Do you offer the choice of gift certificate?
I do indeed. If you would like to get a portrait for a friend or family member, but don't have a picture of their pet this is a great option.
I can send a lovely gift certificate either to you or to the person you would like to gift it too, via email.
Simply order one here.
Shipping Prices:
Domestic New Zealand:
International:
Watercolour
North Island
South Island
Australia
Europe/UK
USA
Rest of the World
Size 1
$10
$10
$30
$60
$70
$70
Size 2
$10
$10
$30
$60
$70
$70
Size 3
$20
$20
$30
$70
$80
$80
Oil Paintings
Size 3
$20
$20
$30
$70
$80
$80
Size 4
$30
$30
$40
$100
$120
$120


Shipping prices are for the NZ Post Courier service, which includes tracking and compensation of up to $2,000 available in the unlikely event your parcel is lost or damaged.