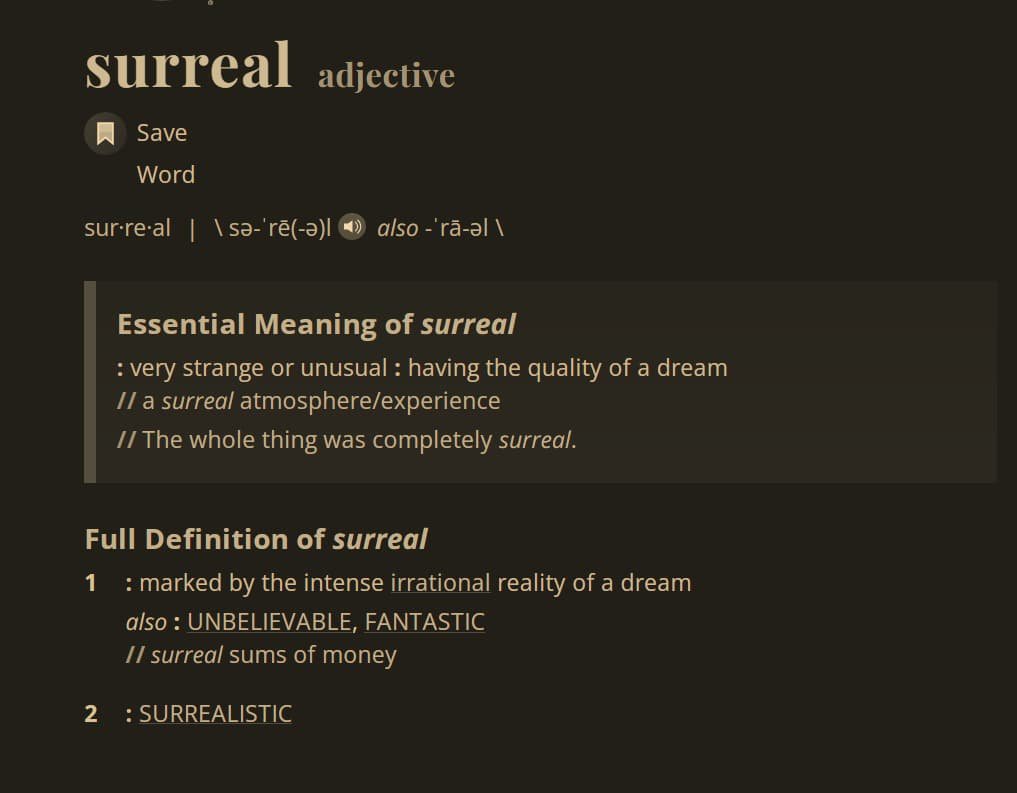 The Surreal within Painting
Hi there,
In this weeks blog I would like to delve into the topic of The Surreal.
I've been thinking a lot about what ties my art together, as I seem to have lots of different themes, styles and mediums.
I looked at all of my art subjectively and found two underlying themes, one of them is The Real, this is where I take a reference and draw or paint it as a study, to examine how to translate it into the artistic realms of paper or canvas. I love studying the subject's shapes and hues, the lighting and shadows, to be able to grasp the characteristics and add them to my memory bank of drawings.
The second theme seems to fit quite nicely with the first, it is the act of taking the real and placing it into an unusual context, creating a dreamlike scene. This is playing with the realm of The Surreal. I think I have subconsciously been fascinated with surrealism for a very long time. It seems to sum up all of my drawings and paintings that aren't a single study.
a sense of serene confusion
This oil painting called "Fishing for the Horizon" ties my two interests together quite well. I love just choosing a photo that inspires me and then adding another subject that inspires me and somehow putting it into the composition allowing space for confusion and story telling. Why are they sharing the space together…I love the surreal and how the mystery provokes people to fill in the gaps, it sparks the imagination! Rather than me telling a story with my painting, people's imaginations are creating the story by filling in the gaps of confusion!
The first spark of inspiration was the background landscape, which I found in a National Geographic. I think I chose it as it reminds me of a beautiful view I was able to enjoy for many years, living near Oamaru at the Oasis also known as the Arena, here in New Zealand.
I have an extreme urgency to never want to just paint another 'boring' landscape. At the time I was really getting into scales on reptiles and wanted to add a turtle to practice painting the scales, so that's how that guy arrived. 😀 I felt like there was compositionally something missing on the other side, so looked through my reference book and found this photo of a man fishing. I loved the image and thought that he'd look great sitting on a deck in the field. It looked like the man was sitting on the turtles table so I extended that idea more by adding a giant bottle.
It evokes questions of why? Why is the man on a deck in the field? Why is he fishing over the horizon? Why is there a giant creature next to him, is the creature giant or is the man tiny? It looks like the creature knows that it's being looked at. It's looking straight at the viewer. There's an odd sense of calm within the confusion. Even though it doesn't make sense, it seems perfectly normal and settled! Much like life sometimes and dreams.
surrealism
[ suh–ree–uh-liz-uhm ]SHOW IPA📓 High School Level
---
noun (sometimes initial capital letter) a style of art and literature developed principally in the 20th century, stressing the subconscious or nonrational significance of imagery arrived at by automatism or the exploitation of chance effects, unexpected juxtapositions, etc.
---
https://www.dictionary.com/browse/surrealism
This is the underlying process of many of my paintings and drawings, as I'm a very intuitive artist. I paint the things that spark joy within and create a sense of curiosity, a spark for the inner child to play with, for the imagination to run wild with. The act of painting allows me to switch off my brain and get lost in what the colours do and how they make me feel.
My partner Steve helps a lot with this process. He'll often fill the board in with 'noise' a term I use for his style of applying chaos and abstraction with acrylics and charcoal. Sometimes he'll add a vague figure like in the displayed painting. Then I'll calm the chaos a tad with bright bold oil paints, adding more figures and whatever else may jump out at me on the journey.

"A Head of His Time"
Oil on Board – Framed
-Natalie J. Cheetham & St3-


"Surrealism originated in the late 1910s and early '20s as a literary movement that experimented with a new mode of expression called automatic writing, or automatism, which sought to release the unbridled imagination of the subconscious. Officially consecrated in Paris in 1924 with the publication of the Manifesto of Surrealism by the poet and critic André Breton (1896–1966), Surrealism became an international intellectual and political movement."
To be honest I'm usually quite amazed by the results that come from my hands. I often wonder 'Wow, did I do that?' It's like I step out of my own way, whilst painting and let someone or something else guide my hand. The whole voyage of emerging yourself in the exploration of painting without getting caught up too much in the meaning in the moment. If you let your subconscious unravel itself, the meaning of your subconscious often shines through.
It's a very liberating form of art for me, as I'm a trained illustrator and animator, where images are meant to have a meaning and a message. There's a lot more planning and head work involved. Painting purely for the painting's sake gives me a perfect balance for my other passion, which is an Interactive Musi-mation called Shu's Awakening, which is a blog for another time, and has given my brain and hands a lot to work on and chew through. Surreal painting and drawing is the perfect way to Unleash my Subconscious and pour whatever comes tumpling down the fountain of creativity, giving my brain a break.


"Using Freudian methods of free association, their poetry and prose drew upon the private world of the mind, traditionally restricted by reason and societal limitations, to produce surprising, unexpected imagery."